French & Radius Top Casements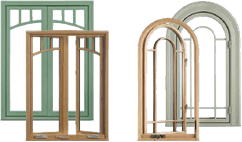 These stylish windows lend a sense of elegance to any home, and they deliver the most unobstructed viewing areas, structural integrity and ventilation of any operating window.  Each one is hinged so the sash opens in a swinging motion.
For an especially charming appearance, select our French casement windows, which feature two sashes that open outward without a center mullion and provide a clear opening.  We also offer push-out casement windows that operate simply with friction hinges and have a particularly clean look.