Milgard Aluminum Patio Doors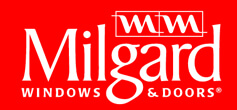 Popular with architects, aluminum patio doors help accentuate the clean lines of modern design.  Aluminum Series are not only beautiful, they are extremely durable to achieve unique architectural vision.  Choose among four versatile colors including Clear Anodized and Bronze Anodized frames.
Thermally Improved Aluminum – Depending on your region, you may be using Milgard Thermally Improved Aluminum doors.  The use of thermal barriers in aluminum framed windows vastly improves insulating ability.  Polyurethane is placed between the frame to create a thermal barrier and reduce the flow to heat.  Milgard Thermally Improved Aluminum windows are equipped with this thermal break and as a result, are more energy efficient.
Full Lifetime Warranty – Exceptional products are made from quality materials and detailed craftsmanship.  We continually redesign, improve and update our rollers, locks, frame and hardware.  That's why Milgard Aluminum patio doors rate high in appearance, strength and value.  Even better, we stand behind our products long after your purchase them.  For as long as you own your home, your Milgard Aluminum patio doors are covered under a Full Lifetime Warranty.