Welcome to The Window and Door Shop
Serving Northern California since 1987, The Window and Door Shop has the experience and expertise to deliver dependable, high-quality windows and doors at a price that meets your budget. We have two locations, Sacramento and San Francisco, and serve the greater areas of these cities. From historical wood reproduction pieces commissioned at our San Francisco location to the best new, modern windows and doors, we have a selection that brings your door and window dreams to life.
Our San Francisco Location
Brothers Fred and Chico Ochoa own and manage The Window and Door Shop in San Francisco. Before they began the business, they worked in hospitality, which is why customer service means so much to them.
We are grateful to have a great team in San Fran, where everyone is treated like family. Many of our employees have been with us for many years, and we're sure glad they've chosen to stay with us and help us bring great windows and doors into homes and spaces in the San Fran area.
Our Staff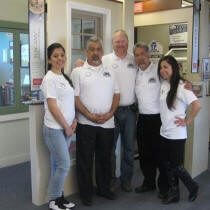 Sacramento Location
In 2009, Fred and Chico decided to open another location for their sister Gaby and her husband Warren to run. Since then, they've been able to build a great team of their own and help lots of residents of the Capital City with doors and windows for their homes. Here's some more information about our Sacramento team.
Our Staff
Warren Sizemore
President
Warren Sizemore has been in the industry for more than 25 years.  Starting out in lumber yards, hardware stores, and moving into the window and door business, he knows the industry very well and can work seamlessly with builders, contractors, architects, designers and homeowners alike.  His expertise and product knowledge is greatly appreciated and sought out by many professionals.
Gaby Sizemore
Manager
Gaby Sizemore handles all aspects of operations for the shop in Sacramento and marketing of both locations.  She has analytical, managerial and negotiation skills obtained by working at UCSF Medical Center for 18 years.  Her last position was as a Principal Analyst in the Contracting Department in Organ Transplantation.  Gaby enjoys reading, talking, and Friday movie nights with Warren and her three boys!
Steve Robertson
Project Manager
Steve Robertson came to The Window and Door Shop, less than a year after opening. He has been in the window and door industry since 1986. Steve started out as a driver, delivering and servicing product. That lead him to warehouse manager and ultimately to project manager. Steve worked for Collier's Warehouse for 25 years before it closed its doors in 2009. Since then he has had many of his customers follow him over. His clients love his honesty, attention to detail, and experience. Steve enjoys rock music and spending time with family and friends.
Diane Larson
Project Manager
Diane Larson joined our team in January of 2011.  She brings over 20 years' experience in the building industry and a long list of loyal clients!  Diane works directly with many builders on their new custom homes; contractors with large and small remodeling projects; and homeowners on their window and door needs.  She is extremely detail-oriented, prompt, and organized!  Diane enjoys reading, cooking and spending time with her family.
Ryan Brabec
Operations
Ryan is our newest member of The Window and Door Shop team, running operations for the store since the beginning of 2017.  He handles everything on the back end that helps make the store run more efficiently.  This includes helping with day to day operations and providing staff support, including IT, CRM, Marketing, accounts payable/receivable, shipping/receiving, tech support, and any other operational based tasks that come up in the day to day running of the shop.  In his spare time, he enjoys spending time with his daughter, listening to music, and watching football and baseball (Go Giants!!).